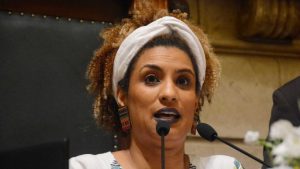 Marielle Franco, SSP's councilwoman of the city of Rio de Janeiro, was shot to death in the center of the town after leaving an event on this Wednesday(14). The councilwoman was famous in her environment for fighting for the minorities rights.
The police works with the assumption that she was executed and that she was followed since the event, because the bandits knew exactly her position in the car, whereas the vehicle had Insulfilm, making it difficult the outside view.
Artists pronounced themselves in their social networks, showing sadness and indignation.
Paolla Oliveira(@paollaoliveirareal): The fight continues Marielle!
Deborafalabella(@deborafalabellaoficial): She has just been murdered. The sweet and strong Marielle Franco. She was the councilwoman in Rio de Janeiro. I knew her. She was fighting for peace, for equal opportunities to everybody. Reported the corruption in the chamber, in the police… Is this way that people whose fight for peace in this country end? I'm shocked, stricken. This murder has to be investigated seriously. These monsters can't get out unpunished. THEY CAN'T!!!
Luciano Huck(@lucianohuck): the Wonderful City, the Broken City of Zeunir, the Injured City. The violence, the terrorism, because this is terrorism, shut one more powerful and relevant voice; Marielle Franco. The less that we expect from the authorities of the State is that the murderers and their chiefs be quickly identified and punished. A parliamentary, exercising her mandate, independent of her ideology, its a representative of the crowd. Today was murdered not one, but more than 50 thousand voices that voted on her. At what point do we arrive?
The State Deputy Marcelo Freixo of SSP, said that the crime is unacceptable and that will charge strictly the authorities.