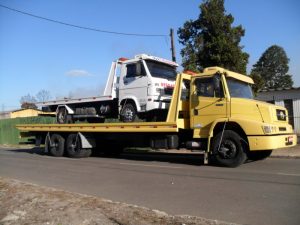 On this Sunday afternoon(4), Josias dos Santos, squeal driver, went through a police blitz in the city of Tocantins, where he had his diver license seized for being expired.
As a consequence, his truck was squealed by his friend Luís Cunha Martins.
What the cops and the friend didn't expected is that Luís couldn't drive too, because his driver license was totally irregular.
Therefore, the police requested another winch truck, and Luís's truck was also squealed.
So came José Bezerra, owner of the winch company, squeal his employers, because he was the only one that could drive.