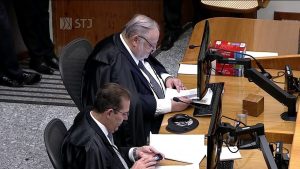 On this Tuesday(6), the ministers of SCJ(Supreme Court of Justice), for unanimity, denied the request of the ex president Lula to not be arrested after the condemnation by second instance.
The ministers were: Félix Fischer, rapporteur on the case, Jorge Mussi, Marcelo Navarro Ribeiro Dantas, Joel Ilan Paciornik and Reynaldo Soares da Fonseca, the fifth team president.
According to them, the decision does not hurts the constitutional origin of presumption of innocence. The lawyers of the former president affirmed that the request just should be denied after being judged for last instance, therefore, should not have their appeals rejected.
So, Lula's defense still can resort to SCJ to try to prevent prison. The Labor Party, in note, requested to SCJ, that it analyses better the case, because they repeated the understanding. Still requested with urgency the evaluation of SCJ, because, according to the party, the former president is innocent.