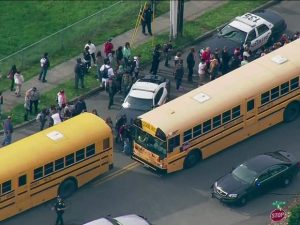 Student was already kicked out of school
Nikolas Cruz, 19 years, ex student of Stoneman Douglas High School, leaved 17 dead and 14 wounded in the same school this Wednesday(14) in Parkland-Flórida.
The ex student was kicked out last year of school for bad behavior. Nikolas's colleagues claimed that "he was too problematic, threatened people and stalked a female student, in which intended to date her." The boy didn't have authority to be in the school carrying a schoolbag.
Nikolas had legal possession of firearm, however, he showed psychologic problems to friends and neighbors, in which wasn't informed to the authorities.
The boy carried an AR15 rifle and according to the police chief Scott Israel, he acted alone. By 14:30 the fire alarm rang followed by shots. There aren't information about the students nationality yet. The president of the USA, Donald Trump, said in his social network "That any professor, student or employee should feel threatened inside of a school."